Wood Chipper Machine| Log Chips Making Machine Supplier
The wood chipper machine is one kind of wood processing machine. The equipment is used to handle waste wood, bamboo, board, and leather materials into small chips of certain sizes. The final products can be processed as raw materials in particleboard, fiberboard, paper pulp, and other industries. Besides, wood chips can be used as biomass energy fuel. The machine is an ideal equipment to make wood chips because of its compact structure, the small place occupied, good quality of slicing, etc. There are two ways of discharging material: upper discharging and lower discharging optional. Furthermore, OEM service is available according to specific requirements.
Motor type wood chipper
Introduction of wood chips maker electric power supply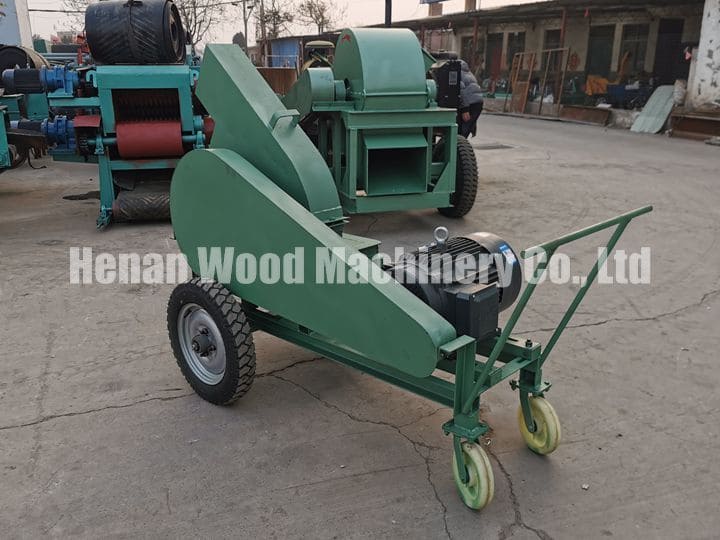 The wood power source of the motor model is the electric motor. The chipper processes wood, bamboo and other raw materials into small wood chips, which can be equipped with wheels according to customer requirements. So it can be moved easily. The discharge port can also be lengthened to facilitate the collection of wood chips.
Parameters of motor type wood chipper
| | | | | |
| --- | --- | --- | --- | --- |
| MODEL | CAPACITY | INPUT SIZE | OUTLET SIZE | Electric power |
| WD-420 | 500KG/H | 150*150MM | 2-5cm | 11kw |
| WD-600 | 1500KG/H | 180*150MM | 2-5cm | 18.5kw |
| WD-800 | 3000KG/H | 200*200MM | 2-5cm | 30kw |
| WD-950 | 4000KG/H | 230*250MM | 2-5cm | 37kw |
| WD-1200 | 5000KG/H | 330*300MM | 2-5cm | 55kw |
| WD-1400 | 7000-8000KG/H | 400*400MM | 2-5cm | 90kw |
420 600 and 800 models, models are named after blade diameter. These machines have less investment and moderate output, which made them become hot-selling products. For models above type 800, for the convenience of feeding, the feeding port is designed to be flat due to the large output, and the conveyor belt can be connected to realize automatic feeding. Models above 1000, inclined feeding style, can be equipped with conveyor belts, which is suitable for large venues.
Diesel wood chipper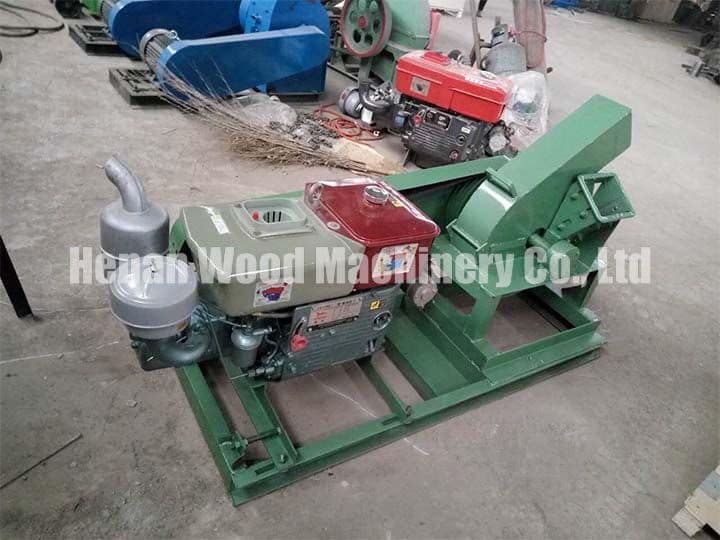 Introduction of diesel log chipper
The diesel version of the wood chipper uses diesel fuel as fuel and processes the raw material into wood chips. It is not limited by voltage and can work in a variety of scenarios. The diesel log chipper can also be customized with wheels, which can meet the needs of flexible movement of the machine.
Parameters of diesel generator types
| | | | | |
| --- | --- | --- | --- | --- |
| MODEL | CAPACITY | INPUT SIZE | OUTLET SIZE | Diesel power |
| WD-420 | 500KG/H | 150*150MM | 2-5cm | 15hp |
| WD-600 | 1500KG/H | 180*150MM | 2-5cm | 22hp |
| WD-800 | 3000KG/H | 200*200MM | 2-5cm | 40hp |
| WD-950 | 4000KG/H | 230*250MM | 2-5cm | 60hp |
| WD-1200 | 5000KG/H | 330*300MM | 2-5cm | 55kw |
| WD-1400 | 7000-8000KG/H | 400*400MM | 2-5cm | 90kw |
Characteristics of wood chips making machine
The crusher machine has compact structure and occupied small space.
The operation is very simple, there is no need to be trained, just put the logs into the inlet.
The blade is made of carbon steel, long service life, and easy to disassemble and install.
The cover of crushing chamber can be opened, ease for maintenance and replacing parts.
Large feeding size applies to the log diameter of 230-500mm, bigger capacity than the traditional type.
The position and length of inlet and outlet can be customized according to customer's requirements. And the machine can be equipped with a conveyor belt for transportation.
Wood chipper machine structure
The wood log chipper mainly is composed of a base, frame, inlet and outlet, blades, casing, and electric control system. The motor drives the rotor at a high speed after the wood is put into the machine body through the feeding port, then the wood is cut into wood chips of similar sizes by the high-speed rotating blade.
Adjusting the inclination of the mounting blade according to the buyer's needs to produce different sizes specifications and thicknesses of wood chips. The disc chipper series products have been renewed and transformed year by year in order to continuously improve grades to meet the market requirements of high quality, high efficiency, and high grade.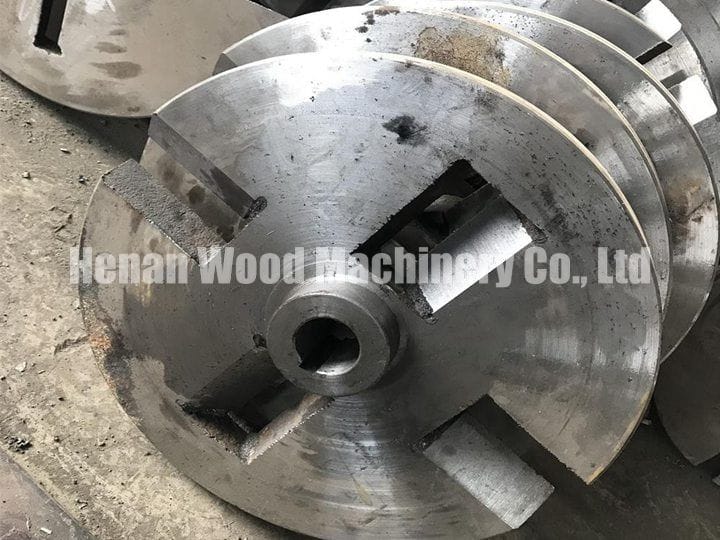 Applicable materials & situations of wood chipping machine
The disc wood log chipper is mainly suitable for small diameter wood and processing residues, such as branches, slabs, slats, round wood cores, waste veneers, waste wood, etc. We can use a wood debarker to peel the bark of the logs. The debarked wood chippers are more suitable for the papermaking process. The machine also applies to non-wood materials, like sugar cane, reed, bamboo, and so on. The final wood chips usually can be used in the processing of papermaking, particleboard, fiberboard, medium-density board, biomass, etc. Its power consumption is low, and suitable for flow operations. Besides, it also can be used for commercial wood chips production for individual households.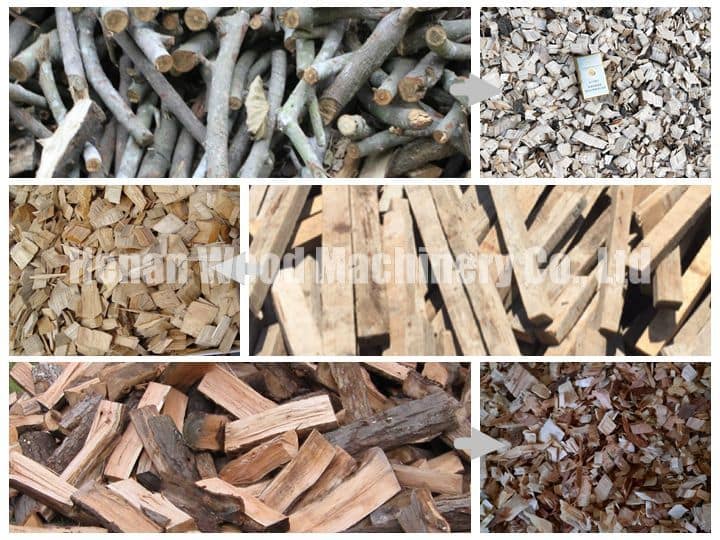 What should be noticed for using the wood chipper?
Wire the motor strictly in accordance with the requirements of the sign, and connect the ground wire well before using turn on the machine.
Turn the belt pulley with both hands to make it idle so as to check whether the cutter head rotate normally or not. It should be debugged immediately before using if there is abnormal sound.
The moister degree of raw material had better be between 30% – 40% in order to ensure the qualified rate of the wood chips. If the wood is too dry, the operator can add appropriate water.
Sharpen the cutter by a piece of special sharpening equipment after using a certain time to ensure the angle of the cutting edge and sharp the edge of cutting tool.
Read the instructions carefully before using it, or consult to professional technician.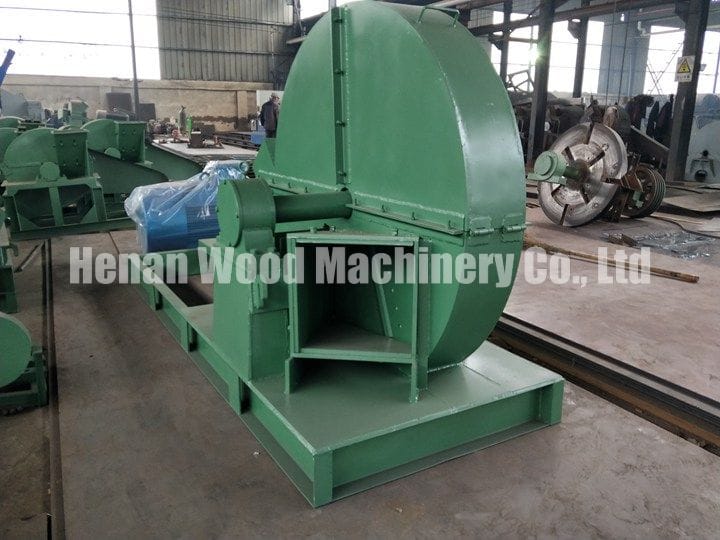 Advantages compared to drum-type chippers
Compared with the drum chipper, this chipper is more suitable for those who are just starting the wood business. The investment cost of a wood chipper is low, the machine itself is relatively small, so the transportation cost is less, which effectively reduces the risk for investors. In addition, wheels can be added to both the electric chipper and the diesel chipper, which is very easy to move. Finally, the drum chipper is more professional in operation and has a very large output, making it more suitable for use in large forest farms.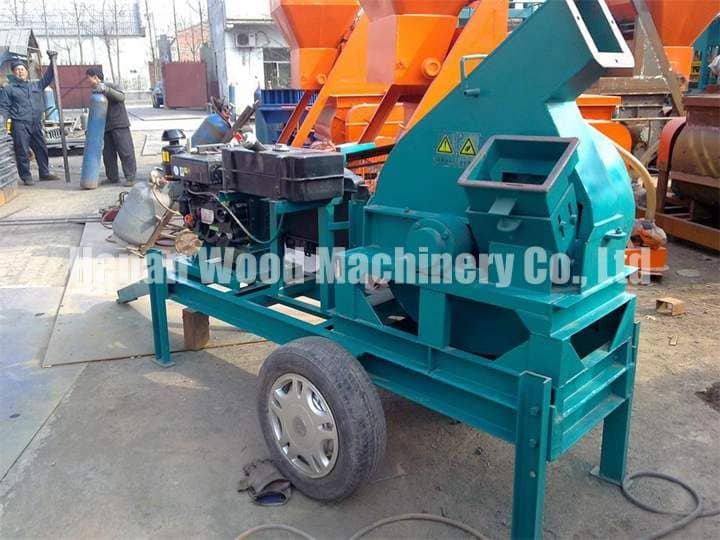 Video of log chipper
What can we provide for wood chipper machine?
Before sale:
Help customers to choose a suitable machines based on actual needs.
Design and manufacture the machine according to customer's requirements and actual situation.
During sale:
Inspect the machine strictly, and send photos and videos to the buyer before shipment.
Assist customers in drawing up the construction plans.
After-sale service:
Guide the installation by English manual, video or assigning technician.
On-site training of operators.
Online consulting service is available.